Welcome to your company's newest tactical business tool!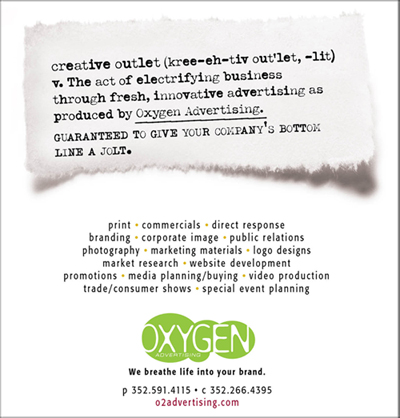 Oxygen Advertising, Inc. is more than just an outlet of pretty artwork and fancy messages. We're your source for strategically marketing your company's products or services.
As a full-service advertising, marketing and public relations boutique agency, your needs are fulfilled as our top priority. Branding, positioning and a fortune of creative concepts are no sweat for our team.
We have more than 30 years of industry experience and local, national and international results to prove our worthiness!
As you look through our site, you will see many award winners. Of course, not all of our winning work is displayed. We didn't think it would be fair to the other works we've created. They're really cool too!
Call Oxygen Advertising, Inc. today at 352.591.4115 for a FREE consultation!